About us
Here you can read about the teachers at Zengården and our lineage.
Our Teachers
Sante Poromaa Roshi has been practising Zen since the early eighties, and teaching full time for over a decade. He started practice as a student of Roshi Philip Kapleau, author of "The Three Pillars of Zen", and he later became a student of Kapleau's successor, Roshi Bodhin Kjolhede.
Kanja Odland Roshi started Zen training in 1984, as a student of both Roshi Kapleau and Roshi Kjolhede. She has been teaching full time since 2001.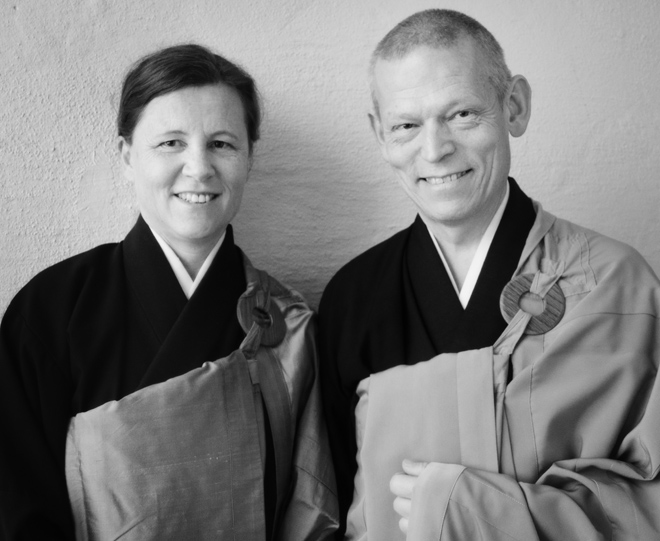 Both teachers have received formal permission to teach in this lineage, and their Zen teaching draws strongly on the Japanese tradition, but without slavish adherence to forms that may be inappropriate in a European context. Over the years, their style has evolved as they seek to ensure that the valuable practices of this ancient tradition are both preserved and made accessible and relevant to modern people. Their approach is above all an experiential one – the student is encouraged to explore the nature of reality first hand, through practice. Yet they also draw on the rich literature of Zen, including three major koan collections (The Mumonkan, The Blue Cliff Record, and the Book of Serenity), Buddhist sutras and the writings of the great Zen Masters. Both also read widely in other traditions and disciplines and their teishos (lectures given to students) can range over subjects as diverse as physics, consumerism, climate change and parenthood. They are both active in the contemporary intellectual and cultural life of Sweden, participating in public panel discussions and advisory groups. Both originally trained as artists, and Kanja Roshi maintains a particular interest in photography. Sante Roshi has published a book on the common ground between science and Buddhism, The Net of Indra.
Teishos
Here you can downoad recorded teishos in mp3 format by our teachers:
Kanja Odland - Refuge and Preparation
Kanja Odland - Remembering the Source
Sante Poromaa - Four Veils (part 1)
Sante Poromaa - Four Veils (part 2)
Our Lineage
Philip Kapleau Roshi is well known as one of the teachers instrumental in bringing Zen practice to the west. He wrote many books,including The Three Pillars of Zen, the first book on Zen practice to be published in English. He founded the Rochester Zen Center in 1966 and he also taught in Sweden regularly from 1981. Zengården traces its origins back to the Zen group founded around those teaching visits. Today we are part of the Cloud-Water Sangha, the group of independent Zen Centers formed by Roshi Kapleau's successor, Bodhin Kjolhede Roshi.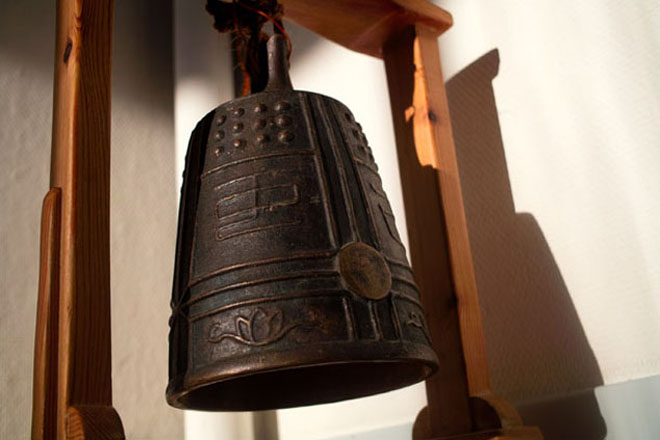 Roshi Kapleau trained in Japan, in the Harada-Yasutani lineage of Zen. The Harada-Yasutani lineage was founded in the 1950s by two prominent Zen teachers, Harada Daiun Sogaku Roshi and Haku'un Yasutani Roshi. Unlike many Japanese Zen masters at that time, both Harada Roshi and Yasutani Roshi felt it was important to make Zen practice more readily accessible to ordinary people with work and family commitments, and also to the many westerners who were arriving in Japan looking for authentic Zen practice. Philip Kapleau was one of the first westerners to become their student, from 1951. After 13 years of training in Japan, Kapleau returned to America and in 1965 was authorised by Yasutani Roshi to teach. He continued teaching and writing for over thirty years.